I wrote this post about a year ago and enjoyed this book so much, I bought a few copies and gave away to friends.  Last week's edition of the Week End's Financial Times has reviewed the very same book ! James Crabtree writes about the old and new India revealed through it's coastline.  Remember you read about this book on www.doindubai.com first !  The cover of the book has now changed and it's on sale for £8.99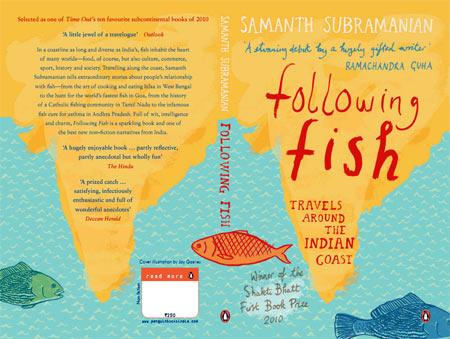 I know you shouldn't judge a book by it's cover, but what a difference between this new one and the original !
ORIGINAL POST June 2011
When 7 Days www.7days.ae  (our daily round-up paper) published a snippet on a South Indian tradition of curing asthma by swallowing a live fish ("Fish Remedy is a Sigh of Relief" Thursday June 9th 2011 p12) you could almost smell the skepticism! But rest assured, I read about this very same remedy in a book called Following Fish by Samanth Subramanian and in fact it's a great read for anyone who loves travel and food, but an obvious present for Father's Day as well.
Forget European flavours of lemon, butter and maybe some green herbs, think tamarind pulp for tang, fresh golden, ground semolina  instead of breadcrumbs and mustard seeds to flavour oil. Apparently Mangaloreans use tomatoes in Chicken and Mutton dishes but rarely to add curry gravy to their fish dishes.
I bought my copy of Following Fish at Cochin airport's very well stocked bookshop after a long conversation with the assistant who assured me it was an authentic, new read for someone who liked food and travel. We'd just completed a fabulous 10 day tour of Southern India and what better last-minute souvenir than a book all about a Fish Foodie's  guide to the South Indian coast.                                                                   
Subramanian's book comprises of 9 essays or stories about fish, how to catch it, the best places to eat it, how to eat it (forget the accompaniments of curry and rice!) and even how to use it as medicine. All his stories incorporate the importance of fish and the sea in South Indian life. You'll learn about the right fish to eat in the Toddy shops of Kerala, how a tiny silver fish gets people queuing to have their asthma cured (that's what the snippet in 7 Days was about) and the perfect rava coating for the Mangaloarean Mackerel, with lots of South Indian legends and history along the way.
Subramanian's criteria for a good restaurant is that it's food must be so cheap and so good that poor rikshaw drivers and wealthy businessmen set aside their backgrounds and eat at the same table. And precisely this used to happen in Mumbai where we lived for a year, 3 back alley seafood restaurants that had just this mix of customers, one was even called ExcellentSea !
Following Fish is an excellent read.
thanks Monica.