Dubai now has a variety of good book shops, the   largest being Kinokuniya in Dubai Mall (did you know the lift from this store goes straight down to the food court !) Magrudys is the largest chain in Dubai with it's biggest branch in Jumeirah, Bookworm also has a couple of branches in Dubai and has a comprehensive range of childrens books. But what isn't easy to find are fabulous recommendations on what to read !
I hope you enjoy my reviews.
BEST BOOKS FOR NEW YEAR 2013
January 20, 2013
In an effort to become a bit more reflective and " worldly" this year my list has skewed away from fiction to non-fiction. Although I am recommending these books for the start of 2013 some of them are from the 2012 publication lists; those I didn't get around to.
My suggestions may make good bedtime reading for yourself or a perfect present for someone you know. According to last weeks' edition of the Sunday Times, 'E Readers' seem to be on the wane! Whilst very convenient for transferring books around and for changing font size, unlike books, they are subject to misbehaving and being low on battery power just when you want to finish the book. Hands up! How many of you would readily lend someone your e reader? If you wanted to share a book as a recommended read with your friends a 'real' book is so much easier and who doesn't like being able to handle a book, smell it (! ?) fold down a corner or scribble a comment here and there (sorry!) Books you handle like this tend to stay in your mind for longer. One other aspect I enjoy is being able to see the book cover lying around, urging me to pick it up !
So here are the 'real' editions of my recommendations for the Spring of 2013. So Get Reading !
The Examined Life: How We Lose and Find Ourselves
Isn't a psycholanalyst a posh term that means a friend you can talk over your problems with? No apparently not, but this book takes the stories of numerous patients of psychoanalyst Stephen Grosz and condenses the 50, 000 hours of sessions in a London clinic into what sound like a series of mini episodes of Tales of the Unexpected. Non fiction that reads like thrilling fiction and will surely leave us questioning why we behave the way we do. READ MORE
Bring up the Bodies
 – 
The only woman to have won the Man Booker Prize twice in a row, Hilary Mantel's Bring up the Bodies
 deserved to win. Despite the novel being set in Henry VIIIs Tudor England much about the novel has huge relevance to life today with political scandals and major figures falling from grace because of a woman's wrath, only instead of damming emails we have messengers despatched via secret passages and every nuance that could mean something, anything is carefully recorded in Cromwell's computer like mind. Mantel's keen observations of how Ann Boleyn captures the attention of her next victim and makes him believe he is the only man in the room are brilliant. The Faux French Queen's pearls in her necklace are likened to little beads of fat around her neck and her nails are described as tiny knives. She describes Anne's anger as scissored up sewing, broken glass and her presence as 'barbed' so her ladies avoid getting too near.
The second guessing of what everyone else is thinking and how to avoid falling out of Henry's favour provide much of the substance of the book and Mantel's Cromwell or Crmuell is shown as master manipulator who manages at least in this book to keep his head. She has been persuaded to write a third book to complete this dazzling trilogy and I have no doubt it will be as sharp and thrilling..
Kindle Fire 7″
A link to the Kindle Edition Bring up the Bodies

The Dinner A Dutch (not Swedish this time) bestseller by Herman Koch is set mainly in one of those impossible to get a table at restaurants (not in DIFC). The "Dinner" group comprises of two brothers – one is an aspiring politician – and their wives having a fancy meal as part of a sophisticated evening.The book seems to focus in the first half or so on the absurdities of haute cuisine and the haute price tags for your food and all that accompany it but then the real reason behind the dinner is revealed.The sons of the two brothers seem to have been caught on camera indulging in what you'd never believe your teenager could be capable of, after all they've been brought up properly with your sense of values and you've taught them right from wrong.   And this is so wrong.
But something despicable has happened and political incorrectness is the least of the problems discussed.  The story then turns to explore how far parents will go to protect their children and their sanity. This is not a parenting book at all but an interesting thriller with a novel format…Read More
A link to the Kindle Edition The Dinner
Update on FOLLOWING FISH
Click to Amazon
I wrote this post about a year ago and enjoyed this book so much, I bought a few copies and gave away to friends.  Last week's edition of the Week End's Financial Times has reviewed the very same book ! James Crabtree writes about the old and new India revealed through it's coastline.  Remember you read about this book on www.doindubai.com first !  The cover of the book has now changed and it's on sale for £8.99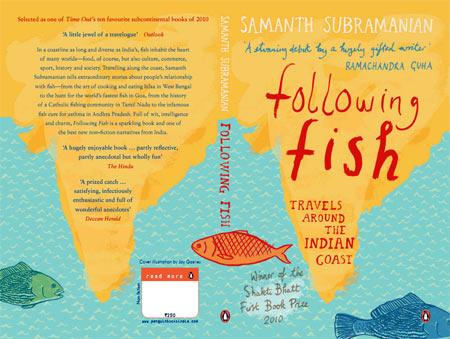 I know you shouldn't judge a book by it's cover, but what a difference between this new one and the original !
ORIGINAL POST June 2011
When 7 Days www.7days.ae (our daily round-up paper) published a snippet on a South Indian tradition of curing asthma by swallowing a live fish ("Fish Remedy is a Sigh of Relief" Thursday June 9th 2011 p12) you could almost smell the skepticism! But rest assured, I read about this very same remedy in a book called Following Fish by Samanth Subramanian and in fact it's a great read for anyone who loves travel and food, but an obvious present for Father's Day as well.
Forget European flavours of lemon, butter and maybe some green herbs, think tamarind pulp for tang, fresh golden, ground semolina  instead of breadcrumbs and mustard seeds to flavour oil. Apparently Mangaloreans use tomatoes in Chicken and Mutton dishes but rarely to add curry gravy to their fish dishes. Read More
The Terrible Privacy of Maxwell Sim by Jonathan Coe
Click to look inside
Read this, it's really good, the sales assistant at Waterstones in London's Gower street assured me this summer, oh yes, what's it about then? Well this man who's a toothbrush salesman has to go on a long journey for his work and well, he's quite a sad guy basically but it's a brilliant read. So the conversation went and as the assistant had helped me with many of my other book quests I felt bad not taking him up on his recommendation despite not feeling quite convinced it was a must read. So as it was part of a 3 for 2 offer I went ahead and bought the book.   I'm glad he foisted this book on me, it really is very good and our book club in Dubai (made up of a diverse mix of nationalities and temperaments) thought so too.The hero of the book is Maxwell Sim (as in simcard) who used to work in the returns department of a well known West End toy store but has, due to a bout of depression brought on by his wife and daughter walking out on him, been off work, sanctioned by the occupational health department of the store. Never mind, his trusted and only friend Trevor comes to the rescue with a job offer that requires Max to drive a brand new Toyota Prius to the fartherst corner of the British Isles and thus prove the motto of the toothbrush company: we travel furthest. Read More
A link to the Kindle Edition The Terrible Privacy Of Maxwell Sim
Click to Read Inside
Battle Hymn of the Tiger Mother
  Chinese Parenting isn't the same as Western Parenting says Amy Chua in her book, BATTLE HYMN OF THE TIGER MOTHER, I don't think her style of parenting is like any you are likely to have come across. I've been guilty of being a bit of a Tiger Mum myself these past few weeks as exam season looms, perhaps one more practice paper, just go over algebraic fractions and try the advanced trig question and it could go on. But my requests, suggestions, even demands pale into insignificance compared to the gruelling and relentless schedule Amy sets up for her kids when it comes to music practice, driving for a couple of hours to get to lessons by 8 00 am every Saturday, finding piano practice rooms (not restaurants) in every single place they go on holiday and her daughter having to run home from school to fit in even more practice gives you a flavour of what the book's about.
Of course Amy has the unwavering support of her husband (who is not Chinese, infact he's Jed Rubenfeld who wrote the award winning book |The Interpretation of Murder in his spare time!) and family otherwise she would have been too worn down to keep this routine up and there are obvious questions …Read More
A link to the Kindle Edition Battle Hymn of the Tiger Mother
OTHER BOOKS ON MY LIBRARY SHELF
Click on the book jacket shown and order straight from Amazon